CLUB GIVING
You can help support the annual fund of Hillcrest Academy by joining one of the giving clubs at the $120, $500, $1000 $2500, $5000 or $10000 level.
Click here for a printable Club Giving sign up form.
Click here for full Club Giving brochure.
Why support Hillcrest Academy as a club member?
Club members become partners in the ministry of Hillcrest Academy by helping to support the school's annual operational budget. As a result, they assist in keeping tuition rates low, making a Hillcrest education attainable for more students. Additionally, member support helps to secure Hillcrest's financial foundation into the future, ensuring that it will remain able to provide quality Christian education for years to come. There is no limit to the term of your enrollment, provided your continued desire to participate in the club each year. As personal circumstances change, club members may opt to move up to a new giving level.

Every club member will enjoy the following annual benefits:
Be listed as a Club member in the HLA Annual Report and every issue of the Hillcrest Connection.
Club|120 Club|500 Club|1000
Club|2500 Club|5000 Club|10000

SPRING GIVING DRIVE
It was powerful to sit in Mrs. Foss's class. I observed students engaging in politics, history, philosophy, culture, and faith while reading a classic book about courage and character! Consider the impact of your gift to a school that unites faith, learning and character formation in the classroom!
The Hillcrest Fund subsidizes the full cost to educate each student at Hillcrest. It is our first priority in raising support for your school. Your generosity provides funding for ongoing operations. It helps to ensure excellent faculty and staff in the classroom and the dorms while helping to fund student support programs and scholarship aid.
Our Hillcrest Fund goal is $425,000 this year. With your help we will reach our goal! To date we have received $290,000 in generous support. With four months to go, we have received almost 70% of our budgeted funding.
Please take a moment to pray for the students and staff of Hillcrest Lutheran Academy! You are getting this letter because you love our school and know the value of a Christ-centered education! Will you also consider financially partnering with us to continue providing students with the incredible faith building, intellect developing, and character strengthening program at Hillcrest?
Current Hillcrest General Fund Totals
INSIDE THE CASTLE | A LOOK AT CLASSICAL ED.
"What differentiates courage from foolhardiness?" The question is deep, but highlights new approaches to character formation that are part of Hillcrest's Classical Education program.
The students shuffled in their chairs, some staring out the window where snow piled on the roof. The question was difficult to answer. Heads snapped back to attention as Mrs. Foss continued. "I want to compare King Richard the Lionheart with Cuthbert on a couple of things." Eyebrows raised.
G.A. Henty's Winning His Spurs came to life in front of the students as Mrs. Foss animated the storyline. The differences between courage and foolhardiness seemed obvious from their reading, but silence still hung in the air as they pondered the question. After a few minutes of encouragement the students started recounting the details.
"Both men are showing bravery." The students started nodding as Mrs. Foss traversed her lesson plan. The next fifteen minutes were a primer on the three chapters they read. Students spoke to details in the storyline, recounting the brash wedding of Richard the Lionhearted compared to Cuthbert's calculated actions in seeking counsel. Students heard powerful life lessons as Mrs. Foss transitioned from detailed retellings of the story to abstract concepts for life. "Sometimes, if you're not careful, your actions can end up as a foolhardy move."
Mrs. Foss's class is dynamic. Students not only sift through character formation, but piece together knowledge from other classes to decipher meaning in the texts they're exploring in Hillcrest's new classical approach to educating students.
"Who is controlling the land of Acre?" Mrs. Foss continued, addressing geography and philosophy in the first half of her class, now shifting seamlessly to social science. "The Muslims are fighting a Jihad, a holy war, and they are converting people by fighting them. They are moving all up in here." Mrs. Foss's hand moved up the map as students' eyes tracked where Islam pushed before the Crusades broke out.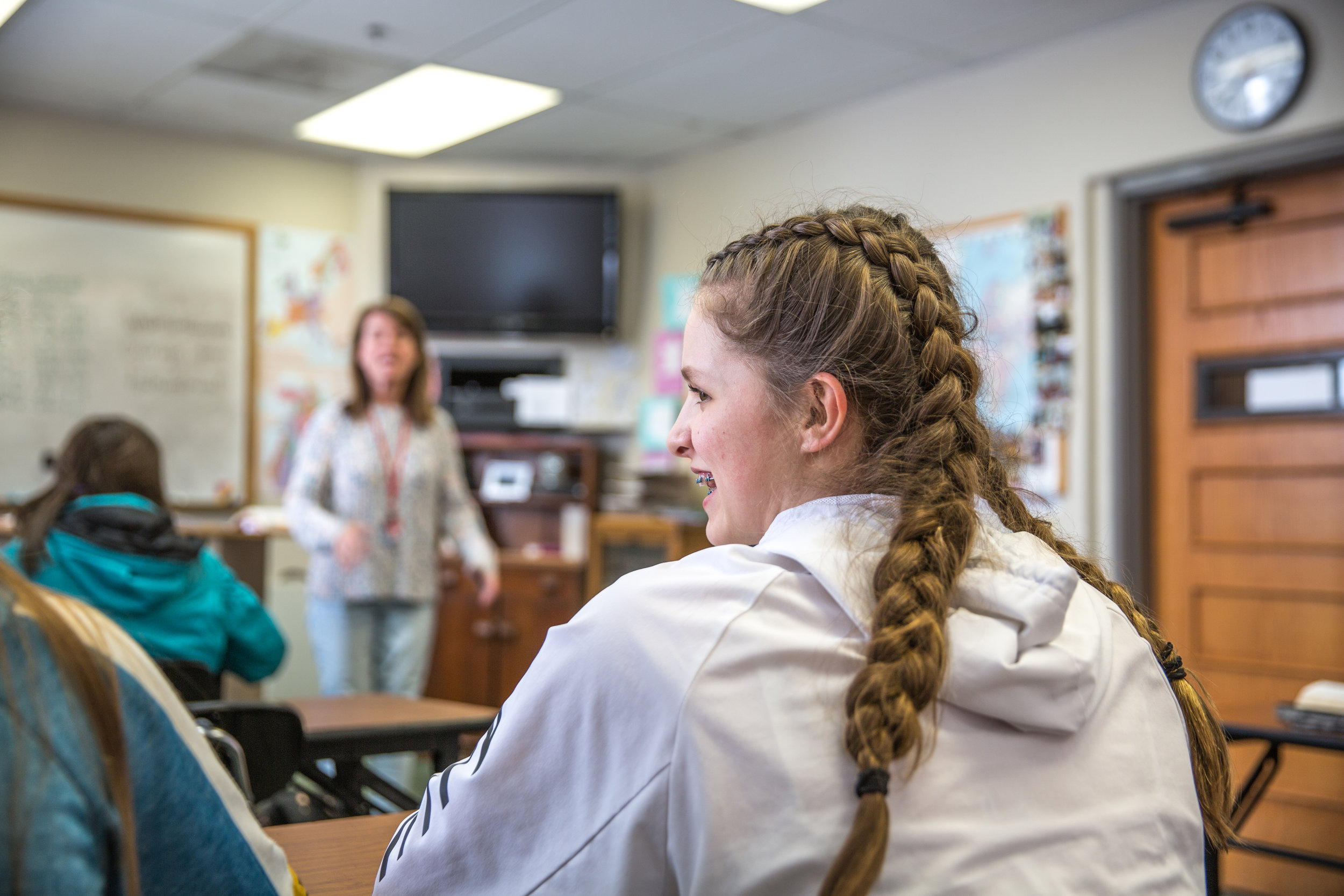 "Many of these books--that are hundreds of years old--point to truth from the Bible.
Like Beowulf that we just finished, he is like a picture of Christ and Grendel the monster is like Satan…Every day we have discussions about what we read and how it relates to current events, such as abortion and the evil monster that is behind it." ~Hope Adams | Current 9th Grade student at HLA.
"The Christians wanted to stand up for Jesus. The Muslims wanted to stand up for Muhammad." The focus moved from the map to Mrs. Foss as she continued drawing connections from their reading to important issues. "War is hard, and we're going to talk about this as we continue. We're going to talk about a theory called Just War theory. There are rules about going to war."
The class period tarried on lessons from side stories in their reading. Tangible examples of how theology and philosophy drive history transitioned to deeper conversations. Character and virtue were dissected. Students leaned forward to consider defining courage with greater foundation. Bold actions supported by convictions may be brave, but students started to see how those same actions could be foolhardy. The virtue of courage formed legs from temperance and justice.
"In closing I want you to open your Bibles to Proverbs 10." Students pushed aside the red covered book for red lettered pages. "Thinking about courage, I want you to read this." The passaged spoke to foolishness. Students compared that to the concept of courage they were forming in their reading lesson.
They flipped to Proverbs 28:26, continuing their deep dive in character formation. "How do you get wisdom?" Students' hands popped up. Their bold proclamations included patience, as well as learning from the mistakes and successes of others. Mrs. Foss pushed the students to think deeper.
One student, quiet for much of the class, mentioned elders. Mrs. Foss agreed, calling out the wisdom of grandparents, before asking, "What about Scripture, and when you read something and you feel like you know something is right, how would you know it's right?" Students said talking to people about the Bible in church, with their family, with pastors and youth pastors.
"You guys! You get to be leaders in this culture that is telling you to follow your heart. King Richard is all about the heart. We're now going to watch Cuthbert and Margaret in the coming chapters. Now, flip to Matthew 25, and the parable of the talents. What verse is that?" A student shouts "fourteen!" with excitement. Mrs. Foss continued "I want you to read that parable tonight and I want you to think of Cuthbert and King Richard, and I want you to think about you. Where do you fit in all this? So you'll read that, and Beowulf for tomorrow."
"The class is sort of a combination of studying the culture, literature, and the Bible.
It is cool how stuff that was written a long time ago still relates to how we feel today, about wars and good and evil." ~Noah Synstelien | Current 9th grade student at HLA.